New Patients at The Masters Dental Group
We're So Glad You're Here
Welcome to our practice! We'll do all we can to ensure our patients know they made the right choice for their dental needs. Come on in and get comfortable! We know time is precious; which is why your wait here will be minimal.
Before your appointment, please complete our online forms to help your visit run smoothly. They include the welcome/health history, insurance form, and the HIPAA notice. If, for some reason, the forms cannot be completed prior, please come in 30 minutes before the appointment so we can help you! Expect your entire new patient visit to last roughly 90 minutes.
ONLINE FORMS

When You First Arrive
Find our bright orange front desk for a proper welcome!
Our staff members greet every patient with a smile. If the online paperwork is completed, the information is entered into our system. If not, we'll provide the necessary forms to fill out.
Next, a dental assistant takes facial photographs, so we can identify patients when they enter. A full set of X-rays is next, along with intraoral photos, or a 3-D cone beam scan, based on what's appropriate for their presentation.
The assistant also does a brief interview to review their history, referral information, and any prior dental care.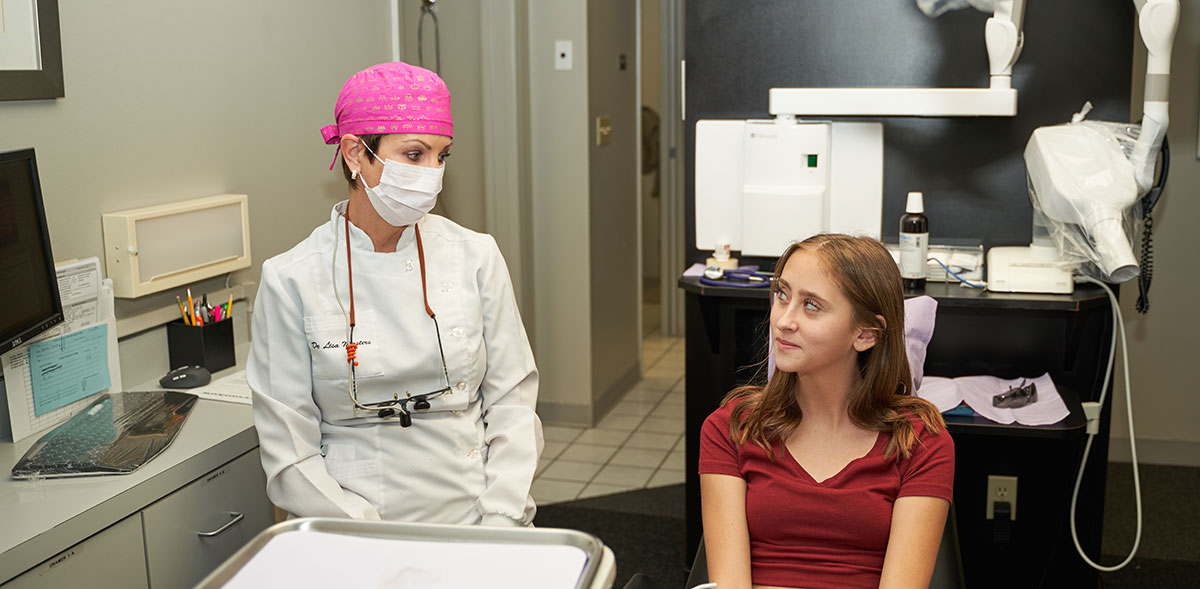 The Consultation and Exam
Let the fun begin! Our dentist will do a full review of your medical and dental history, and as well as your treatment goals. A dental charting, oral cancer screening, and periodontal charting are also part of the exam. Once completed, your dentist will create a care plan for you and discuss the best course of care.
Financial Responsibilities
After deciding on a care plan, our appointment coordinator discusses the cost and payment options available with the patient. Insurance with out-of-network benefits is accepted; we file the claims as a courtesy to our patients. Major credit cards, CareCredit®, and 90-day in-house, 0% financing, are additional payment options.
Scheduling for the procedure is also done at this time, though we encourage you to take your time if you need it-here, care is never rushed or forced. It's all up to you!
Get Started Today
We'd love the opportunity to serve you. Contact our team today to learn more and get your first appointment scheduled.
CONTACT US

New Patients at The Masters Dental Group | (210) 349-4424