Inlays and Onlays in
San Antonio
At
The Masters Dental Group
, our dental team is proud to offer patients many different options for repairing damaged teeth.
One of those options are inlays and onlays, which can be made of tooth-colored porcelain, composite resin, or even gold. Ideal candidates are typically patients who don't quite need a crown, but would like to repair their smile both functionally and aesthetically.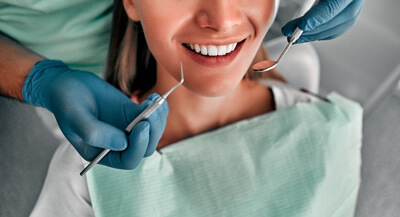 What Are Inlays and Onlays?
Inlays are custom-fitted to repair any damage done to the ridge of the teeth, while onlays are typically used to repair tooth damage that happens on the cusp.
Both inlays and onlays look completely natural, and friends or family members usually won't be able to tell you've had any cosmetic treatment done. Both treatments are extremely durable and strong, which is important for damage that happens in the rear of the mouth. Patients will retain the ability to chew and speak normally.
Schedule A Visit
To learn more about inlays and onlays, book a visit with the practice today. Our dentists look forward to helping patients of all ages and stages of life feel more confident about their smile through custom, effective cosmetic treatments.
Get started today!
CONTACT US

Dental Inlays and Onlays San Antonio, North Central TX | (210) 349-4424