Dental Oncology in San Antonio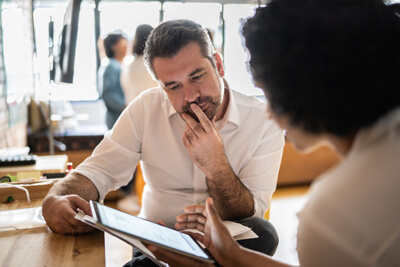 No one likes to think about cancer. Screenings and support, however, are vital to keeping you healthy for life. At The Masters Dental Group, we invest in your whole-body health by providing regular oral cancer screenings, as well as solutions for cancer patients.
We help protect the health of every patient by watching for the earliest signs of oral cancer. Our team has experience providing specialized solutions, including obturators, radiation stents, and fluoride carriers to help cancer patients maintain maximum oral health throughout treatment.
These services may be covered by insurance, depending on your policy. We'll work together closely with your physician to help you reach the best total health.
Oral Cancer Screening Exam
We'll provide a thorough cancer screening at your initial new patient examination and every standard dental cleaning, ideally once every six months. Our dentists carefully check your mouth, gums, tongue, and soft palate, plus the lymph nodes and salivary glands surrounding the mouth. We're trained to detect any irregularities that may need to be checked for abnormal growth.
Early detection of oral cancer can be life saving. While it's unlikely that we'll find anything in most patients, taking this extra precaution can relieve anxiety. You don't need to worry about any hidden cancer, as we'll stay on top of the health of your mouth and soft tissues.
Obturators
It's common for patients with cancer in the upper jaw to lose some teeth and part of their jawbone. Our team of dentists can make a custom-fitted obturator to replace the structures of the upper jaw that were removed due to cancer.
This removable appliance is similar to a partial denture that you can take in and out of your mouth as necessary. It restores your ability to eat, swallow, and speak. We love to watch our patients start smiling again, as they enjoy the feeling of a full mouth of teeth.
Radiation Stents
If you have certain types of oral or throat cancer, you may need radiation therapy in an oral cavity. In this case, your radiation oncologist will likely recommend getting a customized positioner to insert in your mouth before a radiation session.
It's important to make sure radiation only targets the area where the cancer is without hitting any healthy teeth or soft tissues. We'll work closely with your oncologist to design a device that pushes healthy areas out of the way so you can relax, confident that you're not taking in any more radiation than necessary.
Fluoride Carriers
Patients who have had radiation therapy in the head or neck may experience an extremely dry mouth due to changes in the salivary glands. A dry mouth isn't just uncomfortable. It can also make your teeth much more susceptible to cavities.
We'll help protect your teeth from excess decay by designing you a fluoride carrier personalized to the shape of your mouth. This device fits over the teeth, like a mouth guard that a professional athlete would wear. By wearing these carriers for 15 minutes every day, you'll give your teeth an extra coating of fluoride to strengthen them against decay. This is a service that the dentist will prescribe after evaluating your situation.
Protect Your Mouth and Your Health Today
We offer so much more than dental care. Schedule your appointment today.
CONTACT US

Dental Oncology San Antonio, North Central TX | (210) 349-4424